Connecting EchoAccess Mobile Application to your Echo Expansion Bridge
Last updated
Identify the IP address of your Echo Expansion Bridge
The IP address of your EEB can be found by looking at the display of the device. If the screen is dark, press any of the four buttons on the EEB to wake up the display, and the IP address will be visible. Alternately you can also obtain the IP address from the ETC Authorized Dealer who installed your system.
Connecting to your EEB via EchoAccess
Open the EchoAccess app on your mobile device, and select the "Wi-Fi" tab. NOTE: you may need to disable cellular (3G/4G) data on your mobile device to see and connect to the EEB. Enable "Auto Discover" to automatically find your EEB on the network. If it does not auto discover you can manually add the IP of your EEB by tapping the "Add IP Address" button.
Enter the IP address in the field and tap "OK" to add it to your list.
Tap on the name/IP address to connect and configure your EEB. The name will show up as "Unknown" until you connect to the EEB for the first time. Subsequently it will display the proper name of the EEB. In this example the device has the name "EEB TS2."
If you need to edit the IP address of an EEB or delete an EEB from your list, swipe from right to left on the name to expose additional buttons. You can also choose "Wink," which displays "Wink Command Received" on the LCD of the EEB.
This is a useful way to identify which EEB you're communicating with, if you've auto discovered multiple EEBs in your system, and you aren't sure which physical device it is.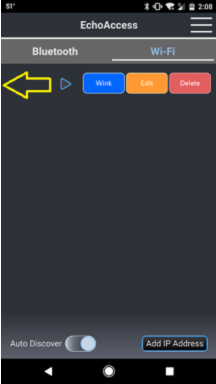 Additional information about configuring the EEB can be found in the EchoAccess Configurable Devices Quick Guide, and EchoAccess Interface Help System documents located at the following link: https://www.etcconnect.com/Products/Architectural-Systems/Echo/Interfaces/EchoAccess/Documentation.aspx