Mosaic IFTTT Module Integration
Last updated
| | |
| --- | --- |
| | The information in this post is provided to assist in troubleshooting. Perform work at your own risk. ENSURE ANY POWER FROM DEVICES HAS BEEN DISCONNECTED BEFORE SERVICING ANY EQUIPMENT. If you do not feel comfortable performing the work, please contact us or your local service center. Be aware that ETC and its Affiliates are not responsible for any damage or injury caused by service of our products by anyone other than us or our authorized service providers, and such damage is excluded from the product's warranty. |
This article assumes you have working knowledge of Mosaic Designer V2 and a basic understanding of IFTTT. You will want to use the IFTTT Webhooks Service to communicate to/from Mosaic.
Below are several examples of how to send and receive to/from an IFTTT Applet (aka Recipe). The example Mosaic configuration has placeholders for the IFTTT key, phone numbers, etc within the triggers and actions. You will substitute the placeholders with your own data.
Please contact aesupport@etcconnect.com with any questions.
First you will want to create a new IFTTT module instance within Mosaic Designer:
Append a Google Doc every time a Mosaic controller reboots (Data 1-3 in Mosaic refers to Value 1-3 in IFTTT Services):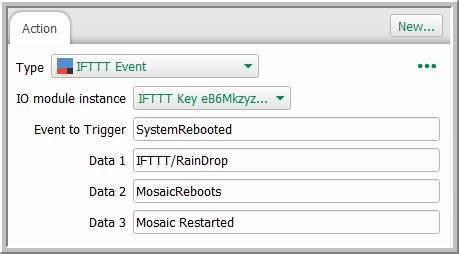 Send an SMS via IFTTT at specific intervals: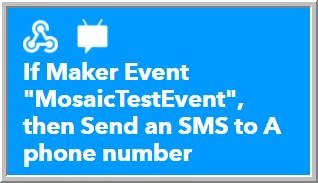 Start a timeline within Mosaic via Google Assistant: