Ion Won't Discover RDM Devices on Local DMX Ports
Last updated
Issue
My Ion or Element running v2.3.0 or higher will not find any RDM devices in patch via local DMX, despite having RDM enabled on the DMX ports, and RDM discovery enabled in patch.
Explanation of Issue
Your console's IO card, which the DMX ports reside on, must be running firmware version 1.4.1 or higher for original IO boards, and 1.0.0 or higher for current high-speed IO cards.
Solution
Update your IO card firmware. Exit to the shell settings, and click on the Maintenance tab. At the bottom you'll see a section labeled Firmware Update and Detected Modules. If the number is above v1.1.0.x.x.x and below v1.4.1.x.x.x, click on the Upgrade I/O Firmware button found above.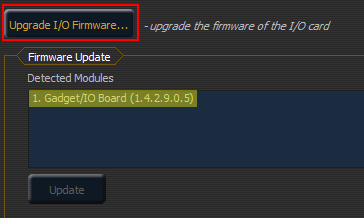 In the IO Downloader windows that pops up, wait for the status to change to "Please Download Firmware," which can take 15-20 seconds. Choose "IO_CARD_v1_4_2_9_0_005.SRC" from the list and click "Download." The upgrade only takes a few seconds, after which the status will cycle back to "Please Download Firmware."
Click on Exit, choose Accept at the bottom of the shell settings, then Shutdown the console, and power it back on. After re-entering primary mode, the console is now capable of detecting RDM fixtures.