ColorSource Spot Alternate Processor CPU2
Last updated
Symptoms/Issue
Why does my ColorSource Spot or Par say CPU2 next to the serial number?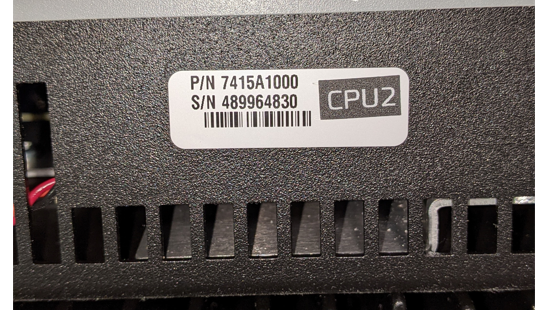 Fix/Solution
Due to parts shortages, we were forced to temporarily use an alternate processor on the control card. This new processor also means needing an alternate software build, v3.0.0. To better keep track of this, we added a CPU2 sticker to the fixture's Serial Number to give us a faster way to identify which processor is in use.
What else does this mean?
CPU2 can ONLY accept v3.0, all other variants of ColorSource fixtures will remain on v1.X.X.
There is a different fixture variant added into Updaterator should the new firmware need to be repushed to a fixture.
Fixture to fixture software push will function only between fixtures using the same processor type.
If you try to load 3.0.0 to a non-CPU2 fixture, or vise versa, nothing will happen; the fixtures will not accept the code.
Since the original release of ColorSource Spot, the fan would spin up on initial power on. This was unintended behavior, as voltage was passing to the fan before the processor booted. This was corrected in the CPU2 code, so the fan will no longer ramp up on initial power up.
Affected part numbers:
7412A1005-X
7412A1008-X
7413A1001-X
7413A1040-X