Alina Firmware update
Last updated
To update firmware to a RAYN Alina you will use ETC UpdaterAtor
The Alina Aps-600 or APS-1500 have a gateway inside that connects the RAYN network and it send out Power as well as DMX/RDM to the Alina Fixtures. The RAYN network link local Address in the 169.254.x.x range with Subnet of 255.255.0.0
Procedure to update Alina firmware:
1) Download and install ETC UpdaterAtor if you have not done so already.
etcconnect.com/Products/Networking/Software/UpdaterAtor.aspx
2) to get all the latest version of software for UpdaterAtor, make sure you computers connected to a network with internet access and click setup Version in upper eight corner. Then click the Download all latest Software button on right hand side. Press done when upload is complete.
3) Direct connect the laptop network port with an Ethernet cable to APS network port
4) If your computers IP is set for automatic you will be realty to go.
Note: If you are on a larger network with an Network address server (DHCP), the addresses of the APS and the laptop should automatically be assigned to the range of the DHCP server which will be different. For this your network setting should be on automatic as well.
5) Restart UpdaterAtor so we can choose the appropriate network card. If your not sure which nick card it is it should be an IP Address in the 169.254.x.x range.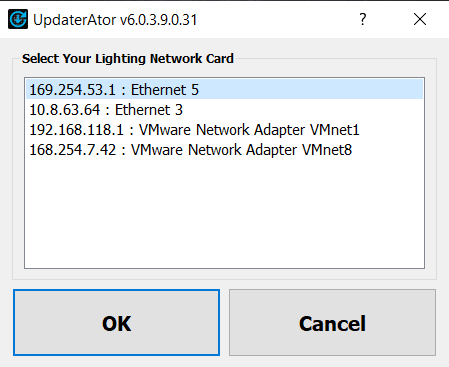 6) Once booted UpdaterAtor should show you the Alina APS that are online.
Note: you may see either and green equals (software in computer matches gateway device) or Green up arrow (software in computer new that gateway device) or orange down arrow (software in computer older that gateway device), you do not have to update code in gateway in order to load code in to the RDM Fixtures.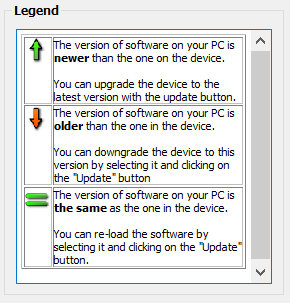 7) Click the RDM Devices button on the Right-hand side.
8) This will give you a popup window to select Software version.
9) Then pick the Alina firmware update file version and click the next button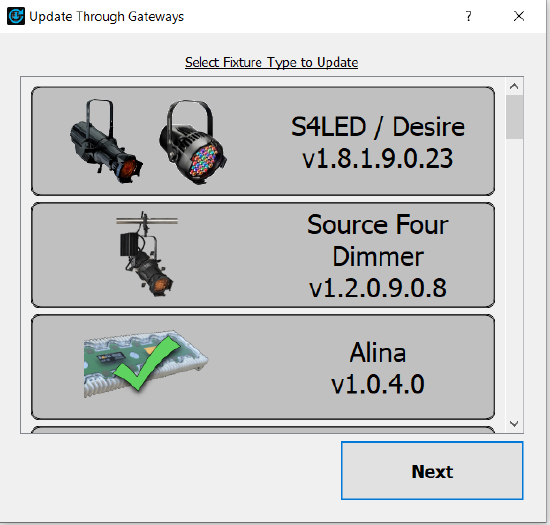 10) A new of the popup Window will come up to chooses the APS supplies / gateways you wish select to use for sending code.Then click Begin update at bottom of the popup Window.
11) You will then get a progress bar as software loads. When finished, press Done at bottom of screen.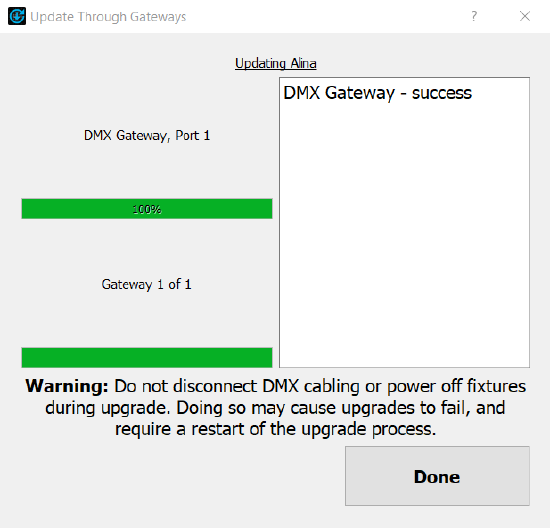 For more information on UpdaterAtor, see the UpdaterAtor Software Quick Guide, which you can download for free from: