ColorSource Relay Multiverse Things to Know
Last updated
Most ColorSource Relay Multiverse (CSR-M) systems will be plug and play without issues.
If you are having trouble with communication, please take a look at the below possibilities.
If multiple transmitters will be online in different SHoWIDs in Neo Mode
Certain ID ranges overlapping can cause timing issues resulting in sync loss. When using multiple SHoWNeo Transmitters in a system, use the table below to determine safe ID ranges for each transmitter.
This does not apply to Multiverse IDs.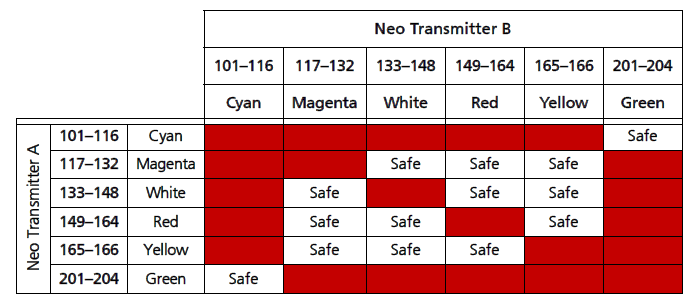 The use of two transmitters set to the same ID is not supported.
Configuration through Console I/O Cards and Gadgets
Gadget 1 and Console I/O card which have a phone remote jack are unaffected.
Due to some bugs, using the newer I/O cards without a phone remote or a Gadget II require a firmware update to properly see and configure Colorsource Relay Multiverse (CSR-M) (or other City Theatrical Multiverse products such as the SHoWBaby Multiverse (CT-5900) or the Multiverse Node (CT-5902 or CT-5903)) via RDM. The Gadget II/Console IO firmware needed is v1.2.1 or higher. ETC recommends you update this firmware prior to configuring wireless DMX products. This firmware is available on the Gadget Documentation page : Gadget II
For more information on firmware v1.2.1 and for installation instructions, please see the Gadget II Interface and Console I/O Card Firmware v1.2.1 Release Note.
If configuring ColorSource Relay Multiverse we recommend the use of Concert v4.1.1 for configuration or Eos Family software version 3.1.0 of higher.
Mixing ColorSource Relay and ColorSource Relay Multiverse
It is recommended that if you will be using ColorSource Relay Wireless (CSR-W) and ColorSource Relay Multiverse (CSR-M) in the same system that the ColorSource Relay firmware be updated to version 1.3.0. This applies to both the ColorSource Transmitter (CST-W) and the original ColorSource Relay (CSR-W). If you are running older code items might not be discoverable or configurable via RDM.
Please note that you may also find issues with original SHoW Baby and RDM connection to CSR-M. If this is the case, these units are not field updatable. Please contact City Theatrical for options.
Using Concert to Configure Multiverse Devices
You can use many programs and RDM controllers to configure Multiverse Devices. If you choose to use ETC Concert software, please use v4.1.1 or higher. This is for the CSR-M but also true for all City Theatrical Multiverse Devices.