Identifying the Differences Between ELV10 and ELV10-S Modules
Last updated
ETC created the ELV10-S to prevent nuisance overtemp messages in CEM3 and CEM+ Power Control Systems. ELV10 modules are not recommended for use in Sensor Racks. ELV10-S modules should be used instead. At the same time, the ELV10-S module should not be installed in a Unison rack as it protrudes out of the rack farther than the ELV10 and prevents proper airflow.
At release, the ELV10-S shipped with the same front label as the ELV10 but a label on the bottom identifying it as an ELV10-S. This made it difficult to tell the difference between the ELV10 and ELV10-S.
In addition to the bottom label, you can identify the ELV10-S by looking at the front. The ELV10-S has a wider breaker channel (we call it a piano body) and visible fiche paper behind the front vents that the ELV10 does not have.
Looking down on the modules (labeled here for clarity), the ELV10-S has a differently shaped breaker and is deeper than the ELV-10.
To make it easier to differentiate between these two modules, we have changed the ELV10-S to include a label on the front as well.
In CEM+, Software Version 3.1.2 or newer is needed.
The ELV10-s performs internal overtemp monitoring and if it experiences an overtemp, it will shut down without sending messages to the processor. This is different from an ELV10 module that sends those messages to the processor.
Based on how they handle Overtemp, when using these modules remember
The ELV10 is designed for use in DRd racks.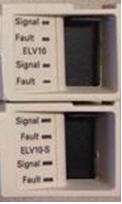 The ELV10-S is designed for use in Sensor Racks.