CEM3 Not Powering Up
Last updated
There are multiple reasons for a CEM3 not powering on. Below is a list of possibilities, listed in order of most to least frequent:
Not Powering Up - Test Mode
Symptoms
Unit appears to be off or not working
LCD off
No LEDs on
UI Network LED barely on
All dimmer outputs on
Explanation of Issue
The switch located at S3 is very likely in the test position and is often forgotten to be returned to normal while troubleshooting or testing other issues.
This switch holds the board in reset, making it appear to be off or not powering up. It also forces all outputs to HI, which is typically used while energizing a system to test that it is functioning
Fix/Solution
Move the switch at S3 to the Normal position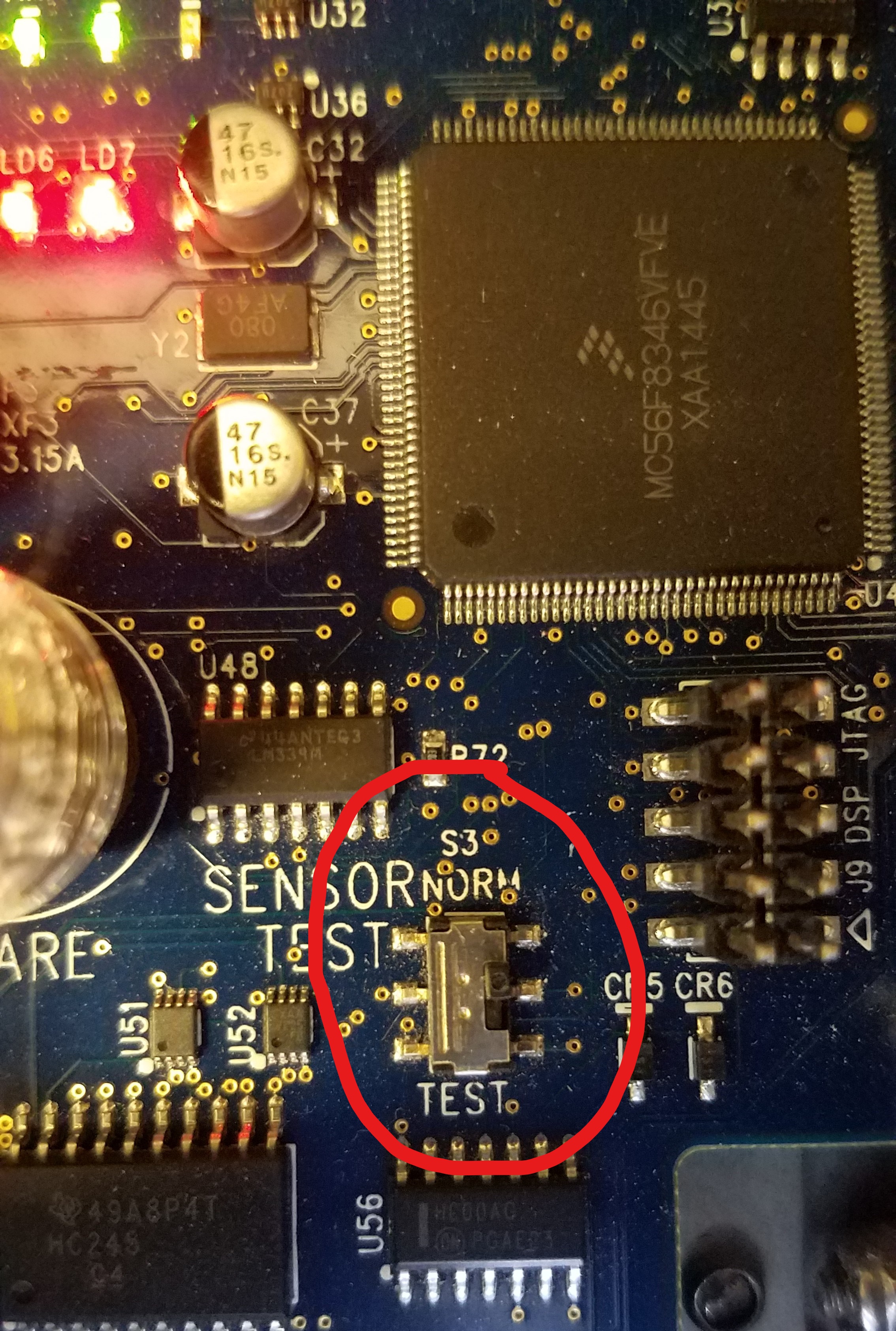 If this does not resolve the problem, there may be deeper issues that may not be repairable in the field. Please contact ETC Technical Services if this is the case
Not Powering On - Cap in the Hat Damage
Symptoms
Unit does not turn on
LEDs may flicker rapidly (3-6 quick flickers per second)
Unit may also be emitting a quiet, high-pitch squeal, or making a faint ticking sound
Explanation of Issue
It is highly likely the cap in the hat (C31) has a damaged barrel. The capacitor may have been hit during install or removal. This causes one of the barrels to rip out of the PCB, effectively removing the capacitor from the circuit. C31 is the bulk capacitor that filters the ripple voltage (50Hz or 60Hz). With it effectively removed from circuit, the regulators further down in the circuit cannot compensate for the ripple, causing them to rapidly oscillate between off and on.
Fix/Solution
This cannot be fixed in the field. Please contact ETC Technical Services to begin the RMA process
Not Powering Up - Capacitors Bulged and Leaking
Symptoms
Capacitors at C42, C47, C56 near the left side of the board appear to be leaking or bulged
Same capacitors may be popped
Explanation of Issue
This is typically caused by a broken solder joint for C36
Fix/Solution
Please contact ETC Technical Services to begin the RMA process
Not Powering On - 5V rail shorted
Symptoms
Unit is not powering on
Unit may also be emitting a faint, high-pitch squeal
+5V rail is shorted to ground
Explanation of Issue
One or more components on the +5V failed shorted. This will likely be the USB voltage switcher chip that failed
Fix/Solution
As this issue cannot be fixed in the field, please contact ETC Technical Services to begin the RMA process
Not Powering On - 24V rail shorted
Symptoms
Unit is not powering on
Unit is "blipping"
The network LED may be blipping briefly about once per second
Unit may be emitting a faint, high-pitch squeal
+24V rail is shorted to ground
Explanation of Issue
One or more components on the +24V rail have failed shorted
Fix/Solution
As this issue cannot be fixed in the field, please contact ETC Technical Services to begin the RMA process