Recording Preset in EchoAccess Flashes Red and Does Not Record
Last updated
Issue
Trying to record a preset in the EchoAccess Mobile App does not record the look and caused the preset button chosen to flash red.
Explanation
This is caused by the Record Functionality being disabled on your output Product. Not all Echo output products have this capability, but the larger panels do. Please see here for a full list of products that have this capability.
This event occurs if you have only echo output products that have the Remote Record option, and they are all disabled. If you have echo output products in your system that are unable to disable record functionality, the red blink does not occur and the record function will work for those devices.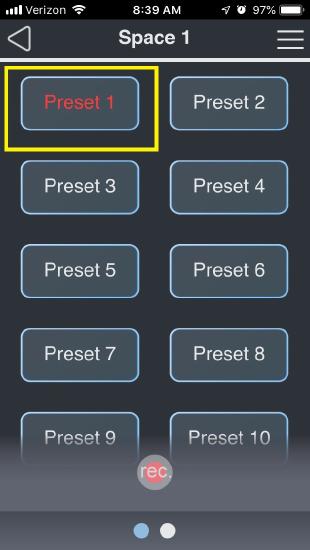 Fix/Solution
Check the Remote Record setting in "Arch Setup" on your Echo Output Product(s).
If "Remote Record:" is set to "off", this panel will not record into presets.
Related Links/References
Echo Devices That Can Enable or Disable Remote Record <Click Here>
Why can't I disable remote record on my 5-button or 10-button Echo preset stations? <Click Here>