Mosaic RIO-D - Incompatible DALI Bus Power Supplies
Last updated
Symptoms/Issue
It has come to ETC's attention that there are DALI Bus Power Supplies that are incompatible with the Mosaic RIO-D product. Below is a list of known hardware that is not compatible.
The symptoms are described as lights not responding to level change commands. Another symptom is that they will not respond to Ballast Discovery or Short Address assignment commands from Mosaic Designer 2 software. Looking at the DALI messages using software such as Tridonic DALIMonitor, it will appear as though no messages are being transmitted on the DALI bus.
Recom RELV4-16
Summary:
The Recom can instantaneously source >500mA which exceeds the specified limitation of 250mA on a DALI loop. Currently shipping RIO-D hardware has a protection feature that will "disable" communication if the current exceeds this as it has the potential to damage the hardware.
The falling edge of the pulse needs to occur in a timespan of 25us. If the duration exceeds 25us, Mosaic RIO-D will ignore the pulse, essentially as an invalid message.
In this scope screenshot, the Pink line represents a Tridonic p/s (fall is within DALI specfication), while the Blue line represents the Recom p/s (fall is outside of DALI specification).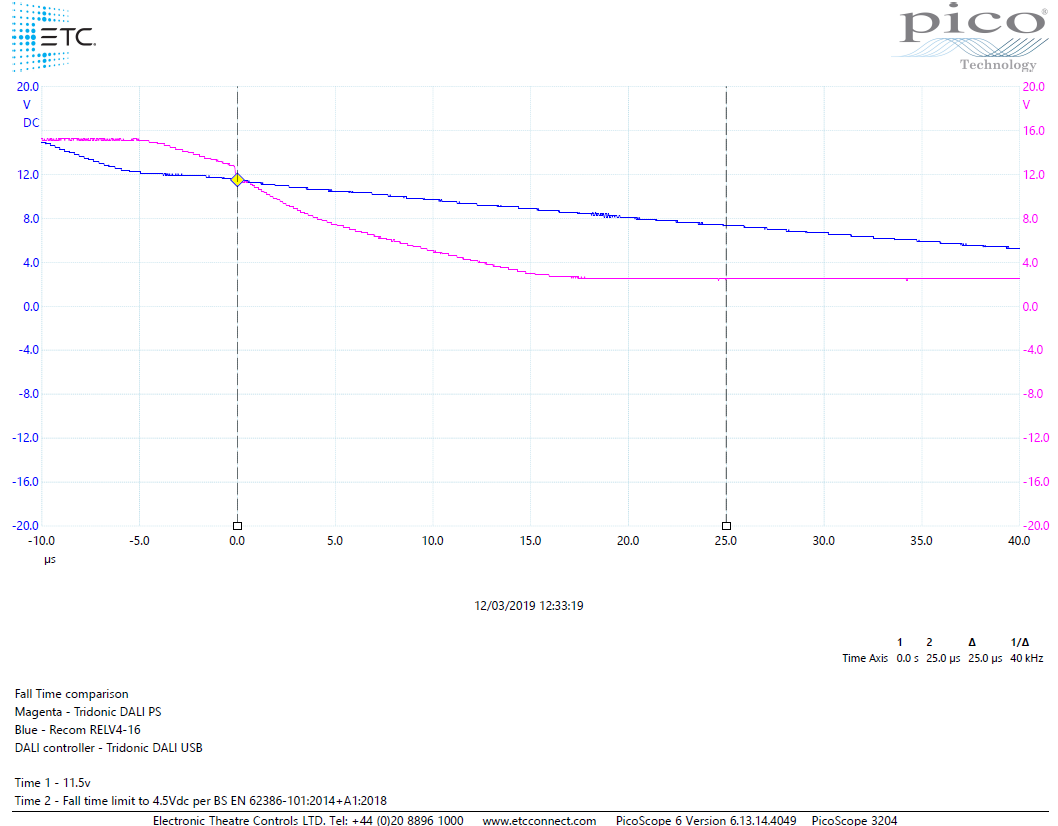 Fix/Solution
If this DALI Bus Power Supply exists on your site and the site furnished it, ETC recommends replacing the power supply with one manufactured by Tridonic.

ETC, Inc. (United States) does stock limited quantities of known compatible DALI Bus Power Supplies. Reference the part numbers below.

PS362-F DIN-Rail

PS363-F Wall Mount / Tabletop