RDM devices will not show up in patch on an Eos Family console
Last updated
Issue
RDM devices will not show up in patch on my Eos Family console, however they do populate in Net3 Concert on the same console. How do I get them to show up in patch as well?
Explanation of Issue & Solution
Likely one or more settings in the Eos software isn't enabled. Use the steps below to verify you have the proper settings enabled:
Turn on Device Discovery in Patch > Device List > RDM. If it says "Disabled" it will not attempt to discover your RDM devices. Simply click on that bubble to change it to "Enabled."
Make sure that the Flexi state is not hiding unpatched addresses found via RDM:

"RDM Patched Addresses" and "RDM Selected Addresses" Flexi states will hide devices that are discovered via RDM, but not Patched
Press [Flexi] or F3 on an external keyboard to cycle through Flexi states

Double-check the Format you are using. It is advisable to start in Address - Channel format (your command line should read "Patch Address:"

If RDM devices are discovered, but do not have a Channel assigned, they will be hidden and not appear in Channel - Address Format
Press [Format] or F4 on an external keyboard to switch between "Patch by Address" format and "Patch by Channel" format


Turn on RDM in the network settings:

Exit to the Shell, and click on "Network" in the top right corner
Scroll to "Interface Protocols" and make sure RDM is checked: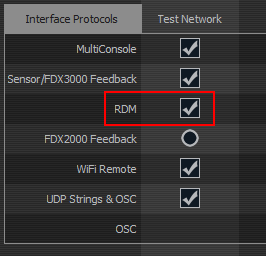 Turn on RDM on the local IO ports:

Press Displays key on your console (or F9 in ETCnomad) to open the browser. Go to Setup > System Settings > Output
If RDM is OFF on the local console port, click in that cell to change it to ON. This can be enabled on a per port basis: