Connecting Paradigm Mobile Button Station to Your Paradigm System
Last updated
| | |
| --- | --- |
| | NOTE: If you have not already set up your Paradigm Architectural Control Processor (PACP) and configured your Android or iOS device to use that network, please see How to Set Up Your Wireless Network for Use with ETC Mobile Applications. |
Identify the IP address of your PACP
The PACP will either be in an ERn rack or DRd rack, and your system may have more than one. Since Paradigm Mobile Button Station (PMBS) connects to a specific processor to pull its configuration you'll need to know which one to connect to. Please contact your system programmer or ETC Technical Services if you need assistance in identifying the correct PACP.
The IP address of the PACP can be found on the LCD display on the PACP itself. A PACP in an ERn rack will always display its IP address above System OK. If you do not see the IP address on the LCD of a PACP in a DRd rack and it says Dimming Control Status at the top, scroll to the right using the scroll wheel to change the display to say Arch Control Status at the top, and the IP will be above System OK.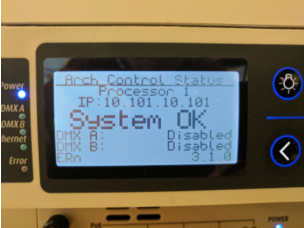 Connect your PMBS to your PACP
| | |
| --- | --- |
| | NOTE: you may need to disable cellular (3G/4G) data on your mobile device to see and connect to the PACP |
Launch the Paradigm Mobile Button Station application on your device.
| | |
| --- | --- |
| | NOTE: the app instructions apply to both Android and iOS |
Tap "Add P-ACP+" at the bottom of the screen

Enter an IP address in the "Add P-ACP Connection" window. You can also enter notes in the note field if you choose. The "Name:" field will auto populate to the correct name the first time you connect to your system. Then tap the "Add" button.

Tap the Paradigm ACP connection on the main screen

Select your configuration from the list. You may have up to 16 configs to choose from depending on how your system is programmed


You will now be connected to your configuration. The button actions are defined by your programmer at the time of commissioning.
Change the Config Theme
To change the theme of your configuration, tap the hamburger menu button in the top right corner.
Next tap on "Button Theme"

Select your theme. This selection will stay with this instance of the button station. Every time you connect to this configuration on your phone, it will re-load the them you selected last.
Using Auto-Load Config
If you have the "Auto-Load Config" option selected in the menu, every time you connect to your PACP, it will automatically load this configuration, bypassing the Config Selection menu.

Editing or Deleting a PACP from your list of available PACPs
To edit or delete a PACP from your list of PACPs on the main screen, swipe from right to left on the PACP to expose the "Edit" and "Delete" options.