Network Map Button is Grayed Out
Last updated
Symptoms/Issue
When I open up Net3 Concert, my Network Map button is grayed out. How can I see the devices on my network?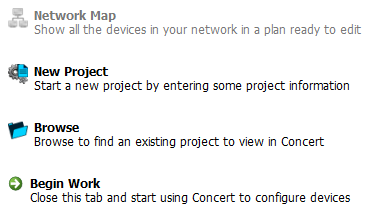 Description/Explanation of Issue
The Network Map button will gray out if you are working in an Offline mode, or if Service Location Protocol is not running on your computer.
Fix/Solution
Ensure you have a Network Interface selected and you are not working in an Offline mode.

Navigate to Options>Preferences>Network Access and select any network interfaces that your computer uses to talk to your lighting network.
Tap {OK} at the bottom of the Preferences window. Concert will restart.

Ensure there is no firewall on your computer blocking Concert's access to your networks.
Ensure Service Location Protocol is running.

For PC users: Troubleshooting Net3 Discovery
Related Links/References