Configuring a Controller in Mosaic Designer 2
Last updated
Configuring an MSC controller is an important part of setting up your Mosaic configuration. The built in configuration utility can be used to change a controller's IP address, subnet mask, along with setting the date and time and log level of the controller.
In the image above, our MTPC is out of range and therefore cannot be associated with the project. We will need change the controller's IP so that it is in range with our IP scheme. We can do this right clicking on the controller and selecting configure.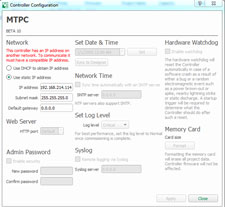 This will then open the configuration utility. If your controller is out of range, you'll see a warning in the network area. Input the correct network information being sure to hit "Apply" before closing the window.
The configuration screen can also be used to, set the date and time, log level, web server, SNTP and SYS log addresses. Enabling Watchdog and formatting the controller memory card is also done from this screen.

A controller's password can also be set from this screen. Be aware that there is no backdoor password to the controller and in order to recover a password protected controller the unit must be formatted.
Remember that formatting will cause a controller to lose all configuration data. This action cannot be undone.