The Output Window is not displaying any values
Last updated
Symptoms/Issue
There are no values displayed in the Output Window, but the fixtures are patched.
Description/Explanation of Issue
The values in the Output Window (and the DMX Output Window) are forms of feedback from the processor and without some form of output mapping, values will not display in the Output Window.
Fix/Solution
Press the Setup button, then the Network softkey.
Select the Processor and press Settings.
Go to the Output tab.
A showfile created on a console with no output capabilities will not auto-map outputs (for example, on Hog 4 PC with no widgets attached).
Press add mapping and add a universe of sACN or Art-Net, then press OK.
A yellow triangle with the exclamation point in the license priority column indicates that that universe in unable to be output live from the processor, but any fixtures in that universe will show their data in the Output window
Press OK to save the mapping and to close the pop up window.
Look at your Output Window. Fixtures patched into the universes that were mapped will now display data.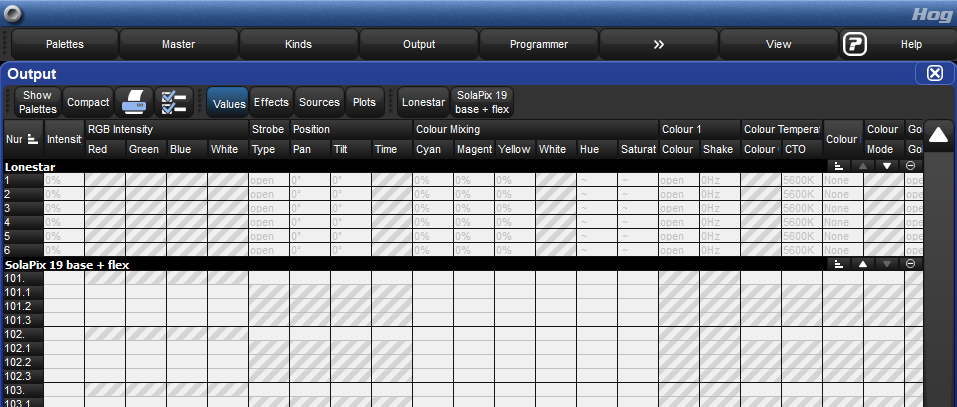 In the example here, the SolaPix 19s were patched into universe 2, meaning an output mapping must be created for universe 2 for those fixtures to show data.
Now with universe 2 patched, data for the SolaPix 19s is visible in the Output Window.